The Latest Product Updates & Thought Leadership
Master Selling with Online Presentations
By all published accounts, it would appear that glossophobia—also known as speech anxiety—is still the number one fear amongst people in society, followed closely by death. Many factors contribute to a fear of public speaking like emotions, thoughts, behaviors, and overall physiology. Nevertheless, sales professionals must overcome even the slightest bit of glossophobia in order to deliver amazing sales presentations. In fact, Forbes reported on a survey that stated 70% of respondents consider presentation skills critical for overall career success.
In sales, online presentations have become the new norm, with CSO Insights reporting that 66% of companies are now regularly conducting web-based meetings with clients during the sales process. That means that not only do sales organizations need to adapt their presentation styles for the web, but they also need the right tools to support an enhanced presentation experience.
Components of A Winning Online Presentation Tool
Web Conferencing
Web conferencing technologies transfer audio and video data over the internet. They are the bedrock for online presentations and should be chosen wisely. Secure, single-platform solutions that provide integrated audio and HD video are your best bet for a strong foundation for online presentations. Aberdeen Group cites that best-in-class sales organizations are twice as likely as under-performers (21% vs 11%) to use their web conferencing platforms to create a more engaging and compelling experience with their prospects and customers.
Roll Call
Being able to take attendance during an online sales presentation is crucial. Accenture reports that there are at least 4 stakeholders in a buying decision, with other sources citing up to 7 stakeholders. Usually, the seller may have just one or two of those stakeholders as contacts. Understanding the other key players in a decision-making process is a delicate dance, and taking roll call is a great way to identify other important people with whom to be in touch to move the opportunity forward. You may choose exactly what type of information to collect during roll call, whether it's just first and last name, or email and title too.
Integrated Chat
A chat—or instant messaging—function has come to be standard across online presentation tools. The most sophisticated solutions allow presenters to customize whether or not they'd like attendees to only message them or also message each other.
Screen Sharing
There are many point solutions that provide screen sharing capabilities, but the biggest bang for your buck can be had with an all-in-one online presentation solution. Screen sharing is important because it provides the flexibility for a presenter to better convey the story they're trying to tell. According to Chip and Dan Heath, after a presentation is complete over 60% of attendees will remember stories compared to 5% that will remember statistics.
Integrated Content
According to Aberdeen Group, sales reps spend 22% of their time (or 440 hours per year!) searching for the right content to use during the sales cycle. Proper sales enablement practices, often supported by a sales engagement platform (SEP), allow for a centralized content repository that can be accessed in real time during an online presentation. In fact, best-in-class companies are 4.4x more likely to have approved content in a single location for easy access.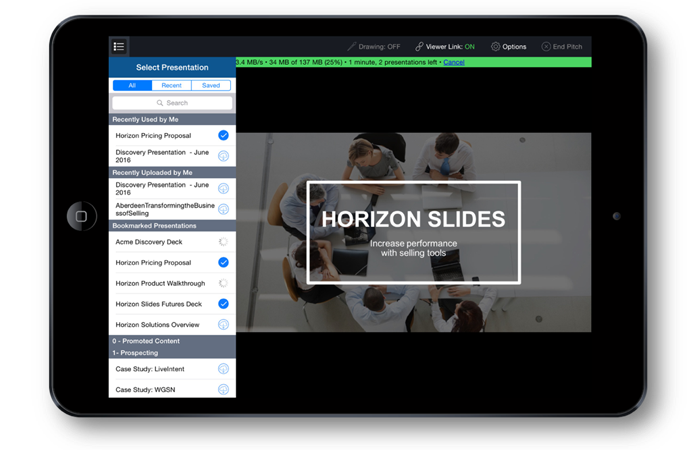 Another advantage of having integrated content capabilities within an online presentation tool is having the option to integrate video into presentations. Prospects are up to 85% more likely to buy a product or service after watching a video, so the more you're able to use them the better.
In addition, Aragon Research reports that by 2019 40% of enterprises will leverage customizable video content as a one of the main ways to increase customer and prospect engagement.
Live Drawing
Keeping viewers engaged during a presentation can be a challenge. According to InterCall, audiences are engaged in a number of activities while on conference meetings including doing other work (65%), eating or making food (55%), or on-line shopping (21%). Changing up what is happening on the screen is a great way to focus viewers' attention back where you want it. A great online presentation tool will allow for drawing live on screen during the demonstration to help with highlighting key points and features.
Recording
What good is an online presentation tool that can't track and record presentations? The best solutions have replay and recording capabilities to capture full meeting recordings—including presentations, customer questions, and responses. These recordings can then be used for account management, real-time coaching, or to create a comprehensive library of best practice presentations and trainings.
Engagement Analytics
When it comes to analytics, it's one thing to get metrics like the number of presentations conducted, presentation durations, etc., but it's quite another to have a solution that provides engagement analytics. Engagement analytics grant visibility into the efficacy of the marketing materials presented during online presentations. You may think it was positive to have 10 people on an hour-long online presentation, but what if you knew that 7 out of those 10 were only engaged for 20% of the presentation? Having these types of viewer metrics is what separates good online presentation tools from great ones.

Online Presentation Best Practices
Captivating Introductions
It's important to remember that your first impression happens during the process of your viewers actually accessing the online presentation. Users cite the top benefit of using web-based online presentations as meetings starting faster. And Software Advice reports that 56% of users believe that web conferencing solutions that eliminate the need to use a PIN to join make it "much easier" to conduct online meetings.
Once viewers have successfully accessed the online presentation environment, you'll need to grab their attention with a captivating introduction. Humans have a 6-8 second attention span, so figuring out how to keep their attention requires creativity. Compelling statistics and trends can do the trick, as can a relevant quote.
Incorporate Visuals
Our brains process visuals 60,000x faster than words. Infact, 30% of our brain is engaged in the task of processing visual information, as compared with only 3% for hearing. More top sales professionals are leveraging visual content to help close deals than ever. Hubspot reports that in 2016, 51% of B2B marketers prioritized creating visual content assets. The probability of keeping viewers engaged during an online presentation increases drastically when visuals are the primary content being shown.
Compelling Closing
It's no secret that closing a sales meeting by solidifying next steps is vital. Hubspot cites asking targeted questions at the end of the meeting in order to best prepare the follow up. Questions like "In your opinion, does what I am offering solve your problem?" or "Is there any reason why you wouldn't want to continue the conversation?" put the prospect's opinions and needs first and provide sellers with the right place to start when drafting a follow up.
Winning Strategies for Online Presentation Follow Up
Review and Log
After an online presentation, it's best to log all necessary information while it is still fresh. Thanks to features like roll call, you may have discovered new stakeholders for the opportunity. With a best-in-class online presentation tool, this type of information, along with any other meeting notes, the presentation duration, and more, are automatically logged back into the CRM and attached to the right opportunity—saving the sales rep significant time.
Prep Next Steps
As with any sales meeting, identifying how to proceed is a pivotal step. By analyzing engagement data, sales professionals have transparency into a prospect's actions rather than just their words. For example, a prospect may have expressed an interest in moving forward, but the engagement metrics from the presentation show they were only engaged 15% of the time. Perhaps the prospect favorably called out a particular slide during the short time frame in which they were engaged. The sales rep's follow up may address this lack of engagement and the theme of the mentioned slide, therein positioning themselves to re-engage the prospect.
Optimize the Presentation
Having the full recording of the online presentation allows sales teams to play back their conversations and better understand where the highs and lows of meetings occur—much like an athlete might watch a recording if his or her game to know how to improve. Comparing the engagement metrics while rewatching a presentation helps sellers connect the dots of what worked and what did not.
With overall audience attention spans declining 50% in the last decade, online presentations are a great way for sellers to present dynamic content to help tell the stories of the products they sell. To best combat this, we know that over 75% of today's sales leaders are using online presentations to improve the quality of customer interactions throughout the sales cycle. Is your sales organization leveraging the ideal solution to harness the power of online presentations?