ClearSlide for Microsoft Dynamics
ClearSlide for Microsoft Dynamics
ClearSlide for Microsoft Dynamics provides real-time insights on buyer engagement and sales rep productivity throughout the sales cycle. Plug-and-play integration automatically logs ClearSlide activities and customer engagement data directly into Microsoft Dynamics.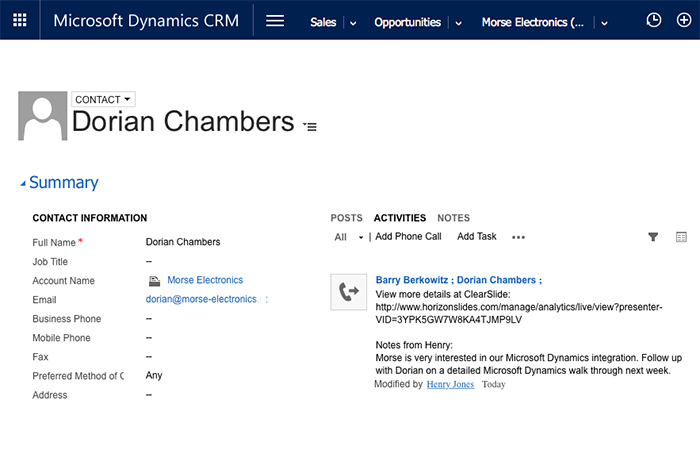 Improve Rep Productivity
Instantly engage, track, and respond to customers from prospect through close. Data from Dynamics pre-populates in ClearSlide. Log rich meeting recaps directly to contact, lead, opportunity, or account records.
Sales rep activities – from online and in-person meetings, emails, and resulting customer engagement are all automatically captured in Microsoft Dynamics.
Increase Sales Forecast Accuracy
Mapping ClearSlide's unique engagement data to Microsoft Dynamics opportunities complements rep reported data and activities with actual customer response. Aggregate customer engagement across channels to provide insight into deal quality and likelihood to close.
Drill into more detailed recaps and customer outcomes. Improve pipeline management and forecasting accuracy and where to focus resources.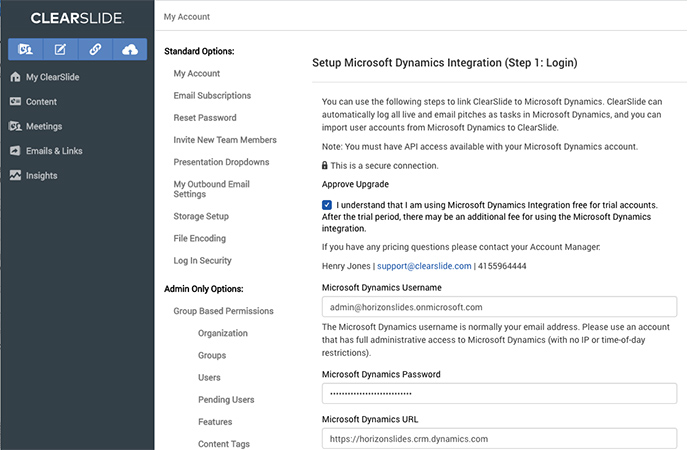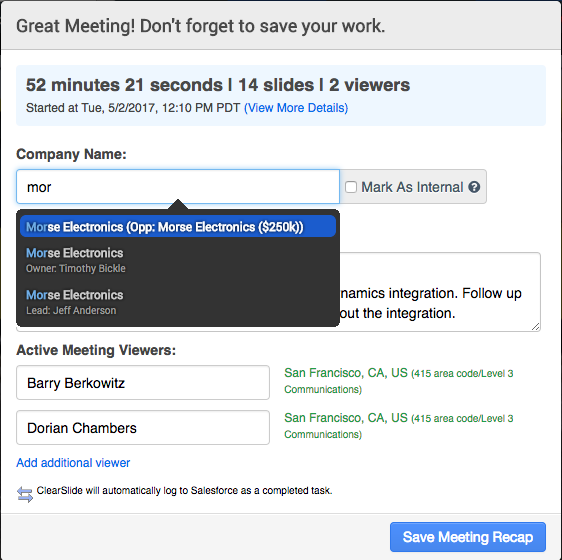 Drive CRM Adoption & Data Quality
Integrate customer engagement data from ClearSlide with MS Dynamics to present a complete view of the customer. Access rich online meeting recaps, content presented, and participant engagement data directly from contact, lead, opportunity, account objects within Microsoft Dynamics.
Data quality improves significantly – and so will your sales rep adoption when they know that they no longer have to manually enter data into CRM.
Mobile Engagement
Using award-winning ClearSlide mobile sales apps, field reps have access to recommended and approved content on-to-go.
Automatically log activity and engagement data to Microsoft Dynamics, improving data quality and presenting a complete picture of activities, content, and customer engagement from anywhere – even when offline.