Automatically capture activity and engagement data back to CRM
Using ClearSlide with CRM systems provides real-time, detailed insight on buyer engagement and sales productivity throughout the sales cycle. ClearSlide integrates with virtually any CRM system, automatically capturing and logging activity and engagement data across all communication channels. Sales rep activities – from emails, online and in-person meetings, content used, and resulting customer engagement – are all auto-logged back to the appropriate records. Data quality in CRM improves significantly – and so will your sales rep adoption when they know that they no longer have to manually enter data into CRM.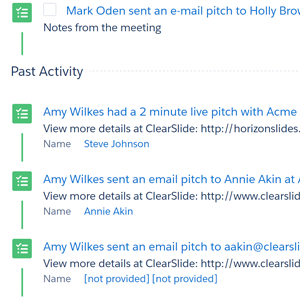 ClearSlide for Salesforce
Push Salesforce data to ClearSlide and automatically log ClearSlide activity and engagement data in Salesforce. ClearSlide for Salesforce is Lightning ready and is the leading AppExchange app for content and communications with Salesforce customers.
Notification API
Connects with virtually any system to automatically deliver ClearSlide content, activity data, and engagement analytics. The Notification API can extend ClearSlide integration to any CRM system – logging ClearSlide activities and engagement analytics.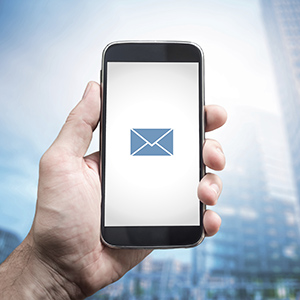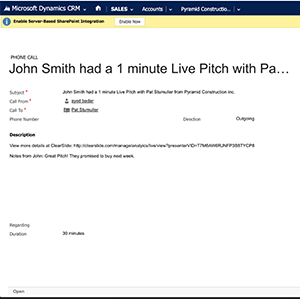 ClearSlide for Dynamics
Plug-and-play integration enables reps to easily associate ClearSlide activities with accounts and contacts from Microsoft Dynamics. Meetings, email activities, and engagement data are automatically logged directly into Dynamics.
Mobile Engagement
Automatically log engagement and activity data from virtually any platform and device when holding meetings via ClearSlide mobile apps– even when offline. Capturing data from highly mobile field sales reps helps improve data quality.