Drive impact and ROI with recommended content and engagement insights
Marketing teams are tasked to enable sales teams with increasing amount of approved and up-to-date content. The challenges are that most sales teams struggle to find the right content to use and most organizations don't track content efficacy.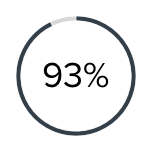 93% of organizations don't track sales content usage
65% of sales content created by Marketing never gets used


Only 21% of B2B Marketers report tracking content ROI
Research from Aberdeen Research, Accenture, CSO Insights, Forrester Research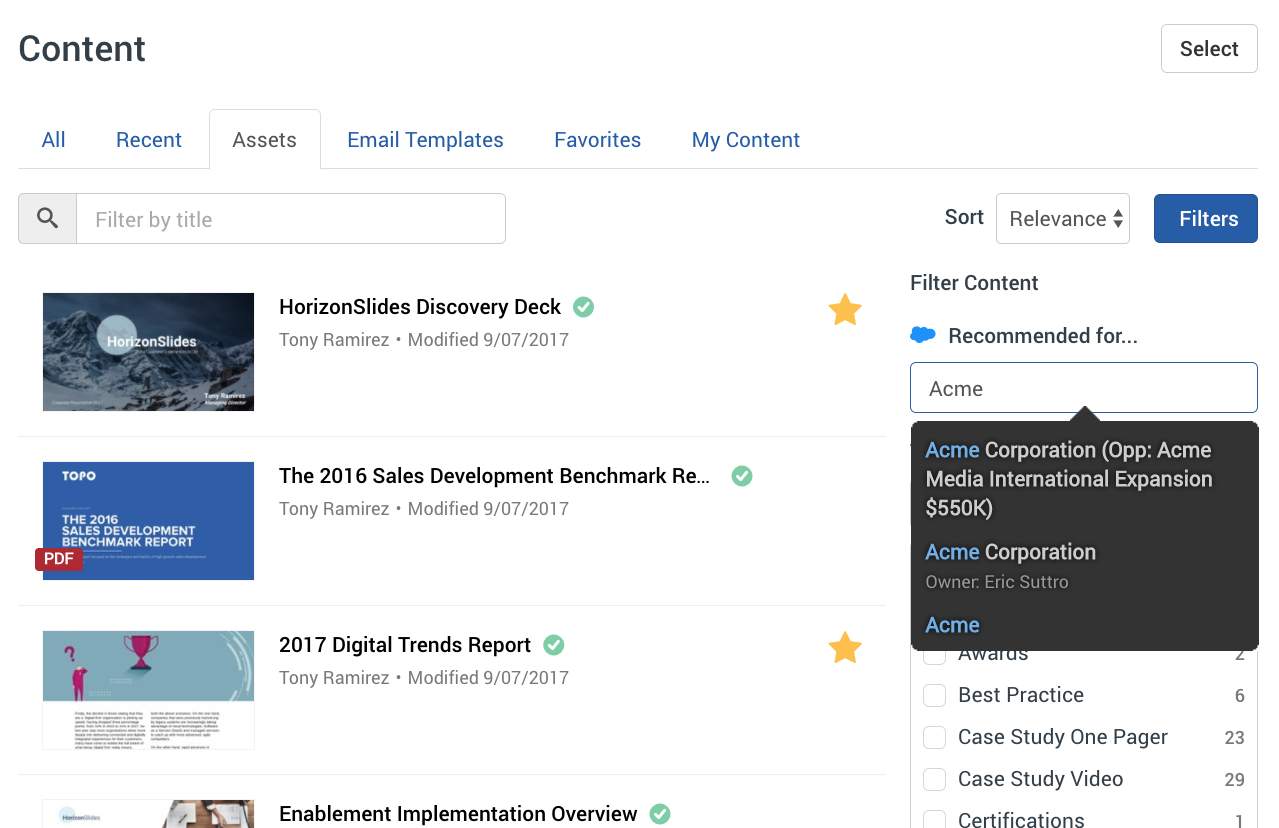 Sales Content Library
Sales teams have a single library for all the marketing collateral and content they need – a single source of truth – including presentations, videos, rich media, email templates, PDF, and other file types.
Seamlessly integrate with other cloud storage systems to easily add and push content to ClearSlide.
Sales teams have full access to approved content whenever and wherever they are – in the office, on the road, and from any mobile device.
Recommended Content
Content creators and enablement roles can easily designate approved content – including presentations, slides, videos, and email templates.
Content can be recommended by sales stage, customer-facing role, and industry.
Group-based permissions are tailored to map to your selling process – so that sales reps across teams always see the right content and tools at any point in the sales cycle.
Activity Interaction Cards highlight suggested next-step actions and content to increase interactions.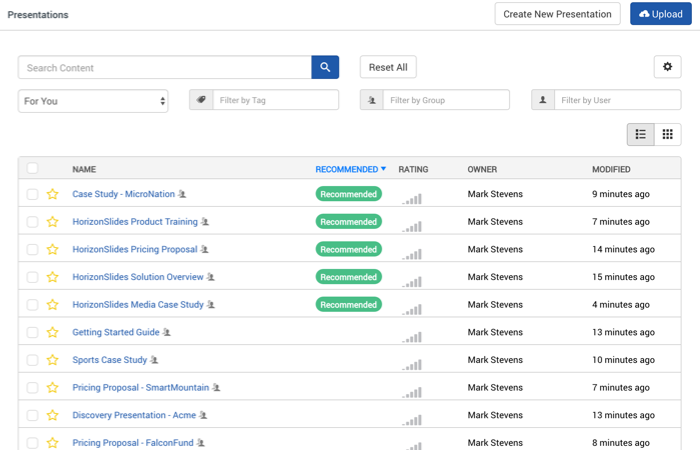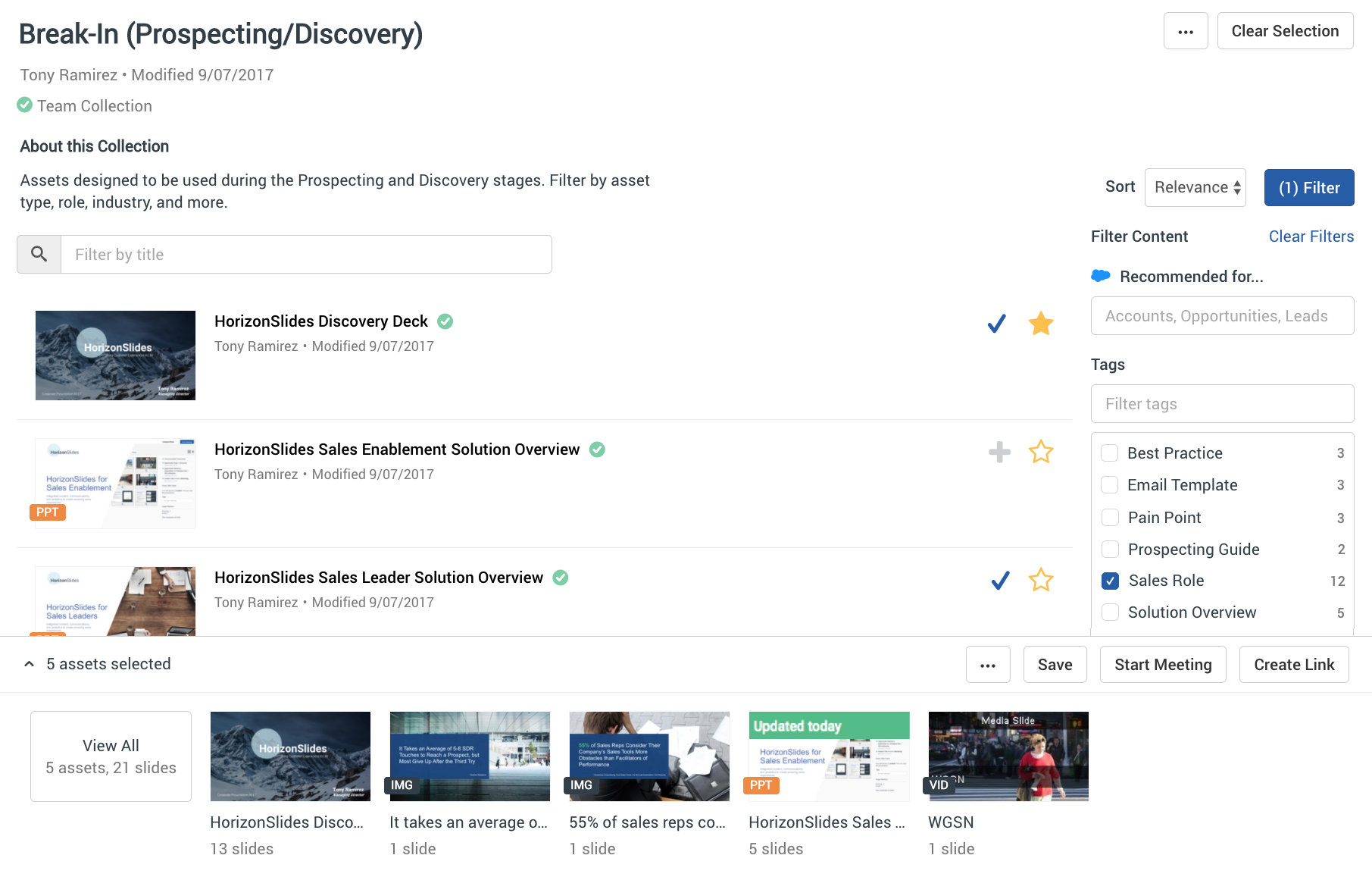 Drive Content Impact
Content is more than just presentation slides.
Marketing teams can provide Sales with the most engaging content to deliver powerful and engaging interactions that move conversations forward.
Sales teams can easily access approved and recommended content, and seamlessly combine rich media – including video, animations, GIFs, and more – to create personalized customer presentations.
Robust content management features allow automatic update or content expiration, so that Marketing teams can always ensure that customer facing content is up to date.
Optimize Content ROI
Presentation and Slide Insights display actionable insight for both marketing and sales teams to understand what content is resonating with customers – and what's not working.
Slide-by-slide engagement analytics give unprecedented visibility into content investment over time, how teams and specific reps are using approved content across communications channels, and even how effective that content is at actually engaging buyers.
Slide Replay recordings allow marketers to hear and see how content is being pitched – so they can quickly tune content and scale across the organization.