Enterprise-Grade Platform
Security & Compliance
Annual assessments verify ClearSlide's security process and controls against certifying framework. Security and confidentially controls are certified SOC 2 compliant. Privacy standards and practices are certified by TRUSTe and EU-U.S. Privacy Shield.
Data & Infrastructure Security
Ensure the confidentiality of your content in transit and at rest. ClearSlide uses data centers with reliable power sources and backup systems. ClearSlide is primarily hosted on Amazon Web Services (AWS). AWS offers 24×7 surveillance, security logs, and multi-factor authentication. Click here to learn more about AWS Compliance & Security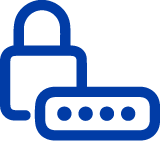 Centralized Control Over Information
Manage platform, feature, and content access while adhering to regulatory requirements. Robust Group Based Permissions allow your Admin to manage access and control at the organization, group and user level.
Operational & Procedural Safeguards
ClearSlide has made investments in tools, processes and infrastructure to keep customer data confidential and secure. ClearSlide also maintains a formal Disaster Recovery Plan that is regularly reviewed and tested.