The Latest Product Updates & Thought Leadership
Introducing the Vega Release: What You Need to Know
The Vega Release is all about enabling your sales and marketing teams with smarter customer engagement and content insights. Vega debuts a reimagined, next-generation meeting experience, new ways for buyers to engage with content you share, and branding options that make every interaction more personal. Here are the exciting new features in our latest release — and what they mean for you.
Next-Generation Meeting Experience
We've reimagined our meeting experience from the ground up to create a meeting platform designed around the needs of sellers.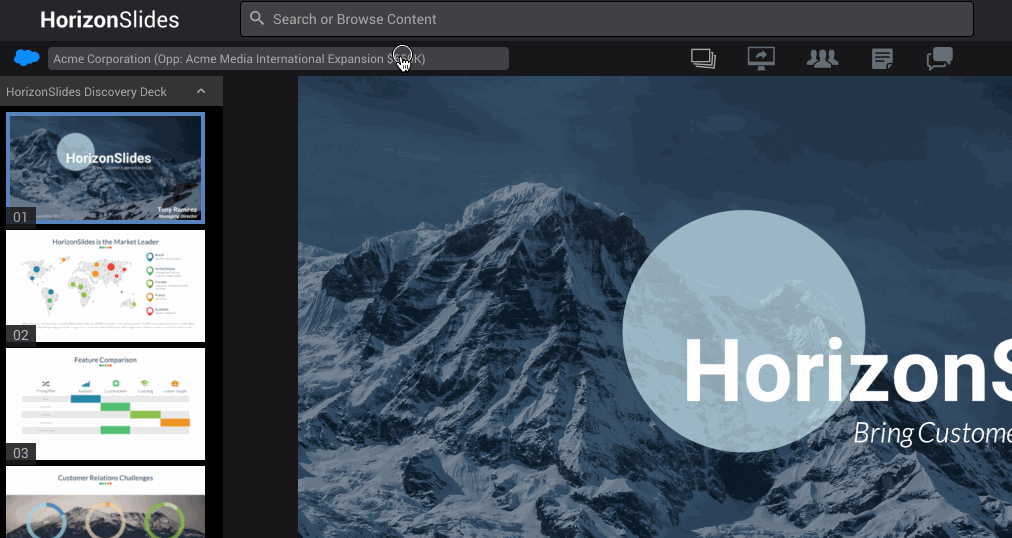 CRM Recommendations and Enhanced Content Search
Enter your customer's name directly in the new meeting experience to put content recommended for that customer at your fingertips. Enhanced content search gives you one-click access to your entire ClearSlide content library. You can use tabs to easily navigate recently used content, favorites, collections, and more — or filter by tag, owner, or keyword to instantly find the right assets for any conversation.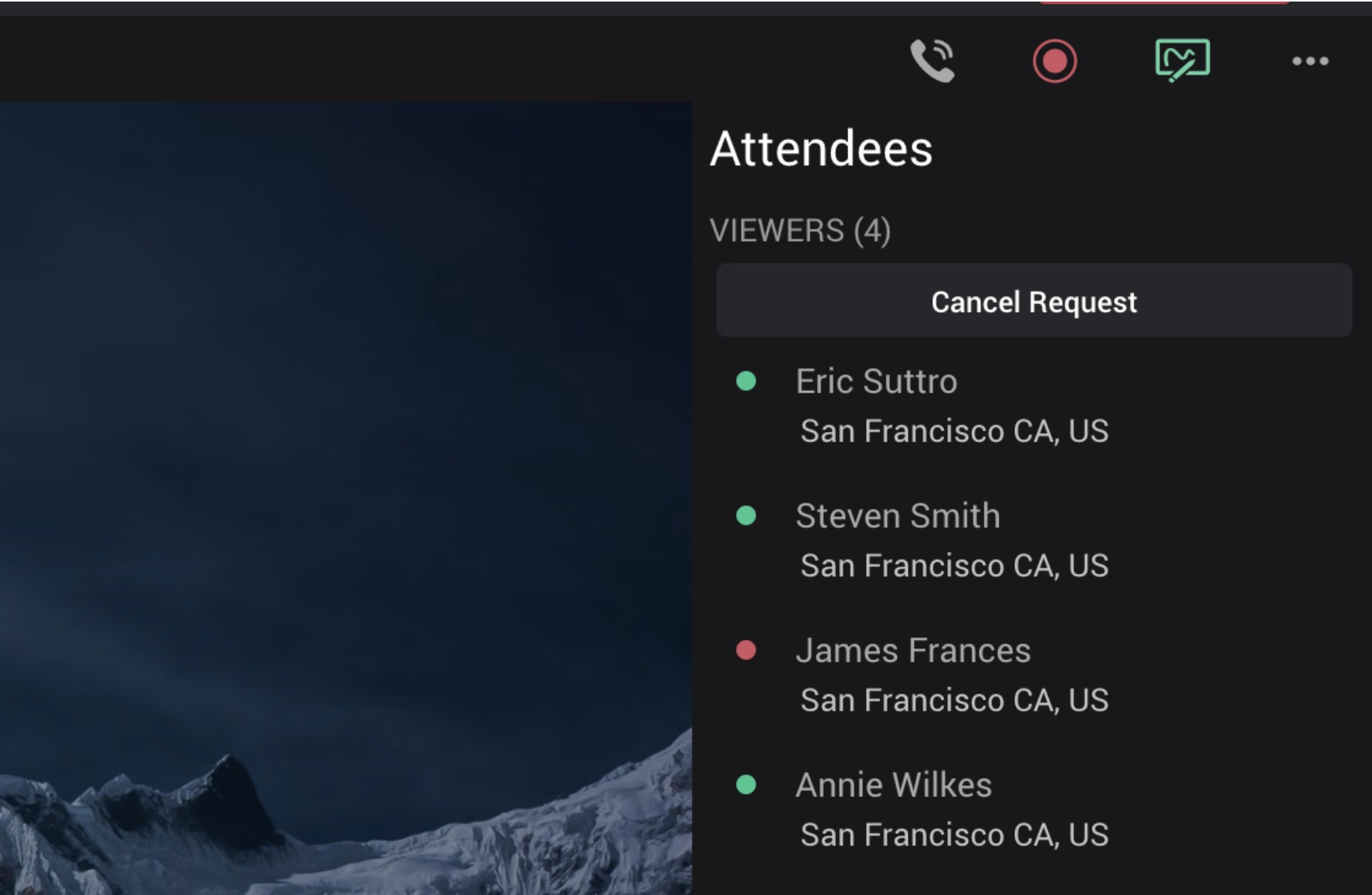 Real-time Meeting Engagement
Request viewer information so you know who's attending your meeting — then see their engagement in real-time to track when viewers are distracted. In-meeting chat makes it simple for viewers to provide their feedback and ask questions. And when you link the meeting to a customer in your CRM, attendees, engagement data, notes, and chat threads are all auto-logged back to the right object.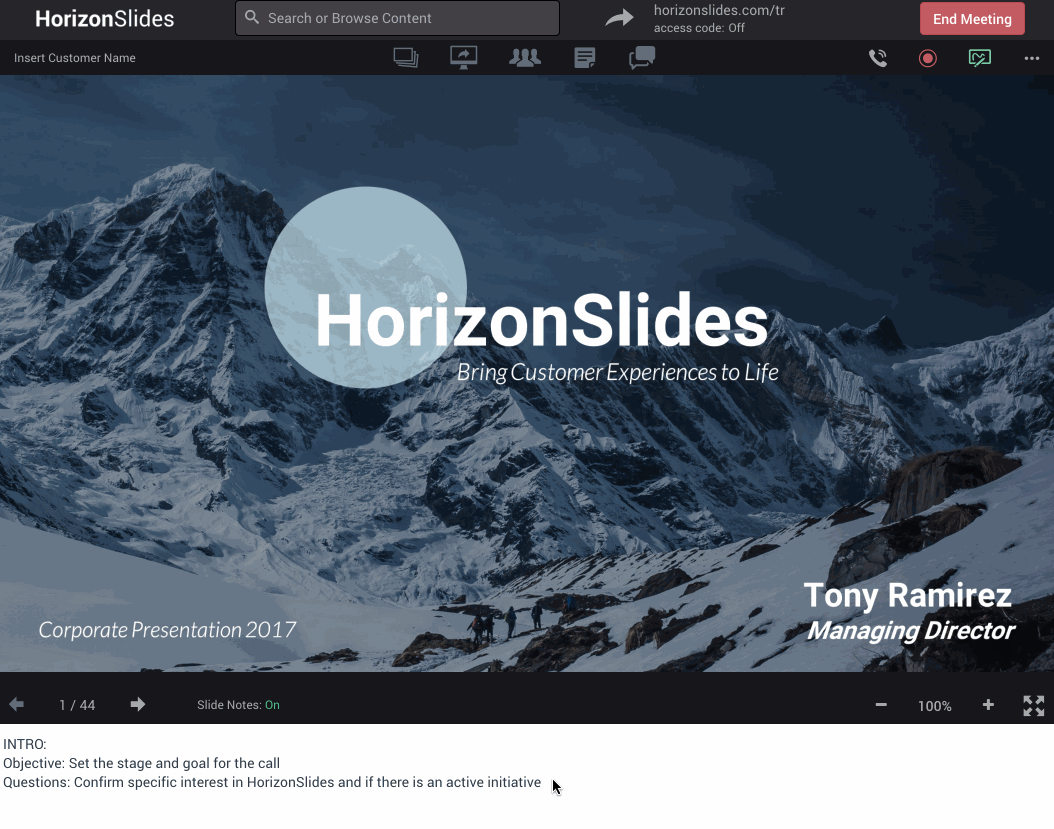 Speaker Notes
Access speaker notes to make it simple to present content and stay on-message. When content is uploaded to ClearSlide with speaker notes, the notes are available for presenters to reference during meetings.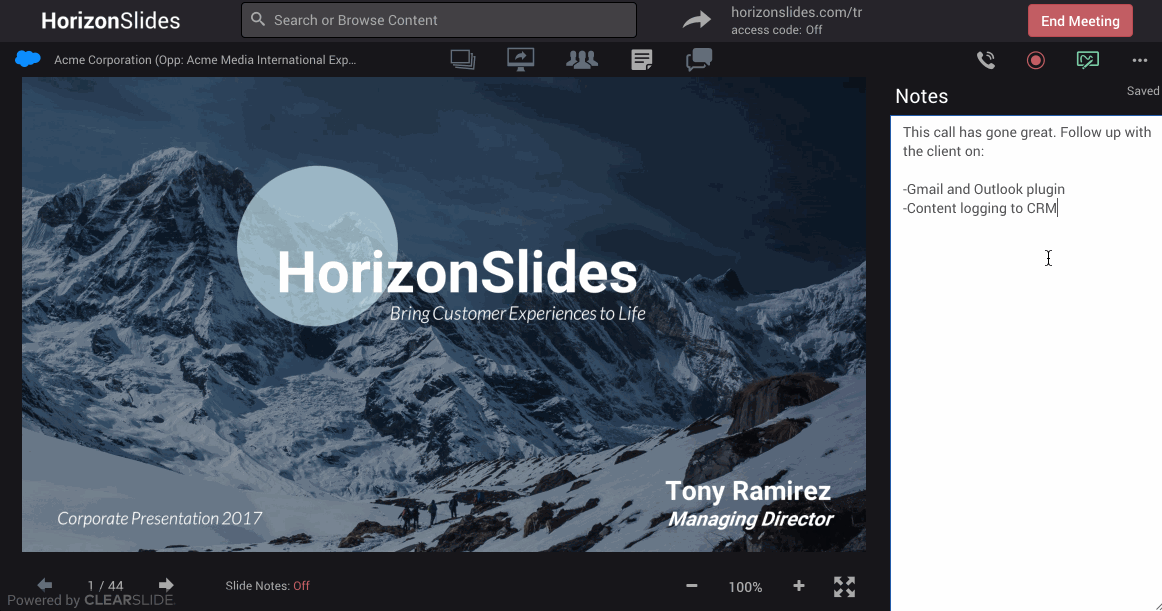 Meeting Notepad
While in a meeting, the meeting notepad provides presenters a place to create an agenda, make a list of questions, or track critical follow-up items — and all notes are logged back to ClearSlide and to your CRM.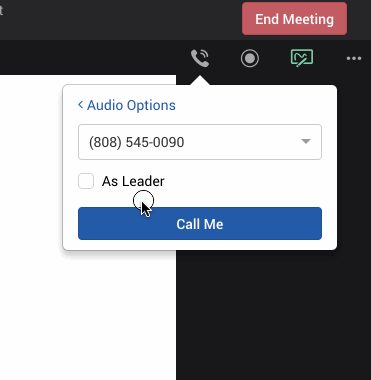 Integrated Audio Conferencing
New 'call me' capability makes joining online meetings effortless — along with one-click recordings to ensure critical conversations are available for coaching and training.
Link & Email Feedback Enables Conversations in Context
Enhanced content viewing helps your content have an even bigger impact and gives your customers more ways to engage.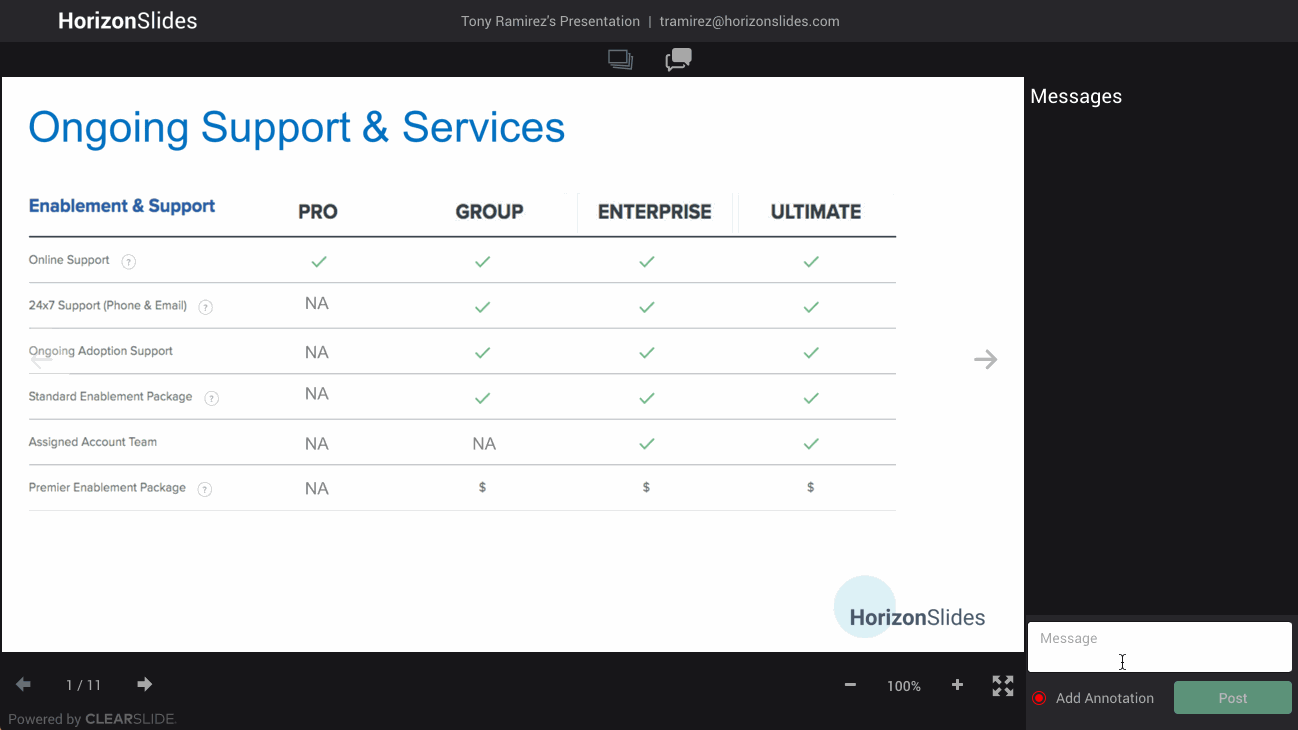 3D Buyer Feedback
Buyers can annotate content sent to them by dropping a pin and leaving a comment or question — and sellers get an instant notifications so they can respond. Having sales conversations directly in content enables more dynamic interactions that give sales and marketing stakeholders real-time insights.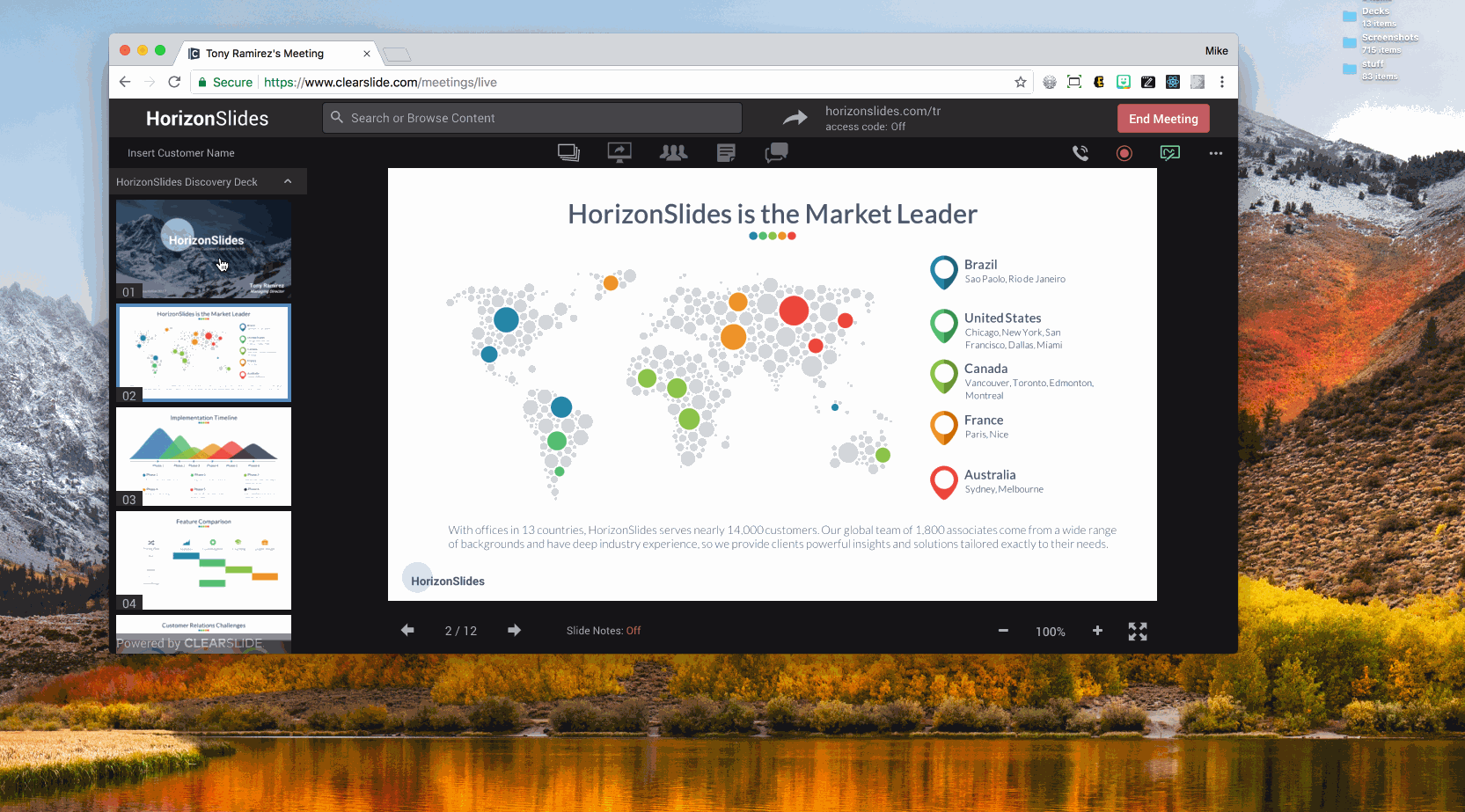 Enhanced Content Viewing
Full-screen content views with 4K resolution and the ability to zoom in and out improves the experience for viewers and amplifies the impact of your content.
Social Selling and Lead Forms
Capture viewer information no matter how content is shared — via email, social media, and more — using unique lead forms and content controls that help you navigate an organization.
Personalized & Branded User Experience
Make every customer outreach more personal by sharing your brand, your headshot, and your contact information.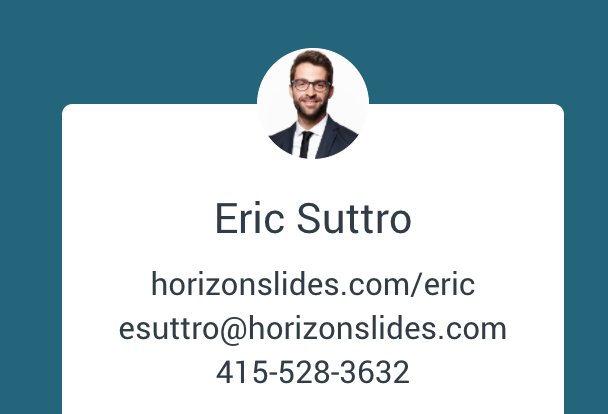 Create an Avatar
Put a face to your name with every customer interaction. When you add a photo and contact information to your profile, it's shared with buyers at the end of meetings and content links — so every outreach is personal.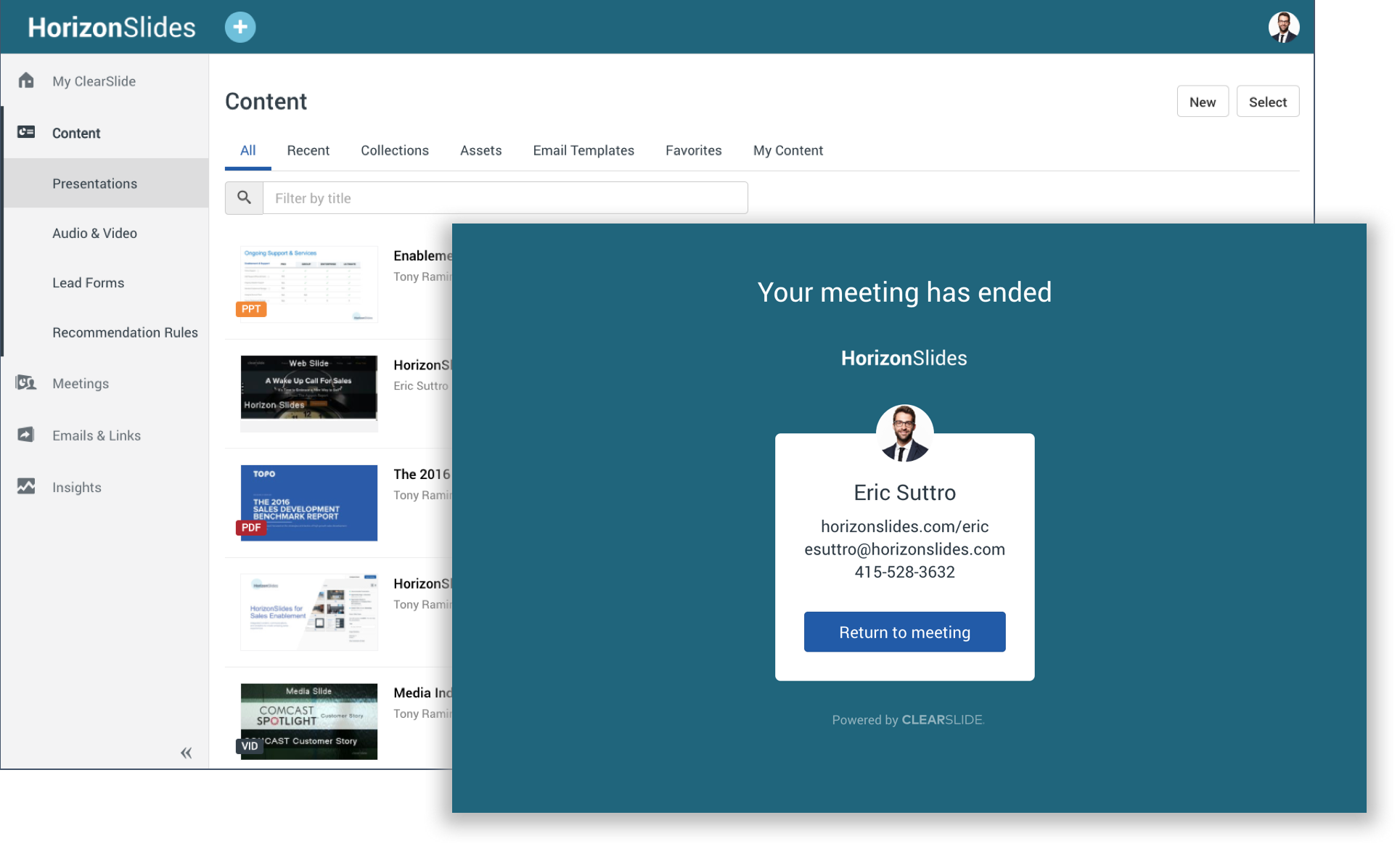 Custom Branding Options
Reinforce your company brand with custom meetings, content links, and logged-in experience that create powerful impressions for users and customers.
Refreshed User Interface
Enhanced navigation and responsive design improve the user experience — whether in the office on a large monitor or on a mobile device.
Wondering where to get started? Use our support resources to jumpstart your success with Vega. And let us know your feedback on our latest release by reaching out to productfeedback@clearslide.com.