The Latest Product Updates & Thought Leadership
Microsoft Dynamics Integration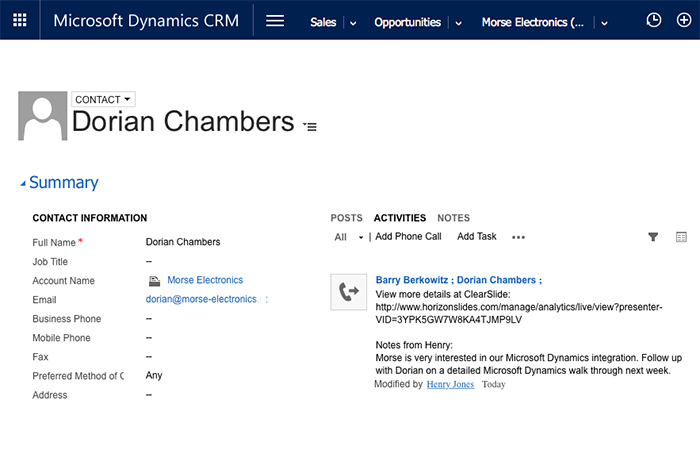 ClearSlide provides an enterprise ready, open platform that brings detailed activity and customer engagement data into your Marketing and Sales teams' existing workflow and processes. Adding to our existing integrations, we're excited to announce the general availability of our out-of-the-box integration with Microsoft Dynamics.
Using ClearSlide with Microsoft Dynamics helps ensure reps and leaders have real-time, detailed insight on buyer engagement and sales productivity throughout the sales cycle. The integration automatically captures and logs activity and engagement data across all communication channels. Sales rep activities – from emails, online and in-person meetings, content used, and resulting customer engagement – are all auto-logged back to the appropriate records within Microsoft Dynamics. Automatically log engagement and activity data even when holding meetings via ClearSlide mobile apps – even when offline.
Mapping ClearSlide's unique engagement data to Microsoft Dynamics opportunities complements rep reported data with actual customer response to improve pipeline management and forecasting accuracy — providing an integrated view of the customer and single source of truth that reps and leaders want to use.
To learn more about how ClearSlide for Dynamics can help your sales organization contact support@clearslide.com.