Content, communications and insight for sales teams
What is Sales Enablement?

We define Sales Enablement as equipping a sales organization or salesperson with the tools and information needed to perform their jobs effectively. Sales Enablement is a specific and specialized role in many organizations, typically reporting into Sales Operations or the Marketing department. The Sales Enablement role focuses on both the sales process and customer journey, bridging the gap between marketing, sales, and customer support.
Sales Enablement Platforms are critical for enabling and empowering your sales organization with effective tools to engage your customers successfully.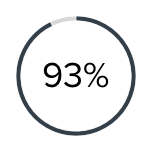 93% of sales leaders don't have confidence in activity data
44% of managers need more accurate sales metrics


19% of sales teams turn-over each year
41% of sales reps feel their technology needs are being met

Research from Aberdeen Research, Accenture, CSO Insights, Forrester Research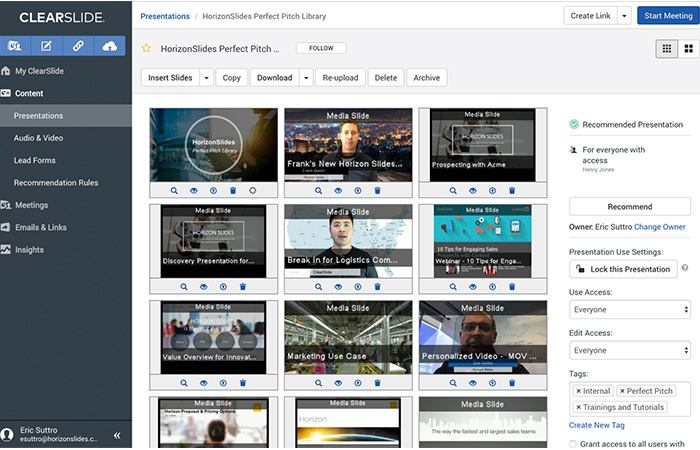 Content Management
Building powerful and engaging presentations is essential for a successful sales pitch, however, just as important to sales enablement is finding relevant content at the right time in the sales process.
A single content library ensures consistency and standardization of training, adoption, and implementation content and tools. Access presentations, videos, email templates and more from anywhere to ensure instantaneous customer support. Product, Engineering and Services teams can collaborate and support customers throughout the lifecycle.
Beyond managing sales content and marketing collateral- understand what messages and materials customers respond to on a slide-by-slide level. Gain visibility into what content was used, in which channels, and how that content engages buyers. Hear and see how content is actually being pitched by sales with Replay and Recordings.
Manage and recommend content from a single library accessible from anywhere
Update content across your organization with one click
Detailed analytics on what content drives engagement
Communication Tools
Connecting and communicating with prospects and customers is a critical part of sales enablement, and the best tools can engage customers on their own terms. Eliminate struggling with antiquated tools that aren't optimized for Sales by using an integrated Sales Engagement Platform. Seamlessly jump between approved content, high-quality screen share, and demos to tailor customer on-boarding, training, and remote support to meet customer needs.
Sales Reps love ClearSlide because it's tailored for the way they work. Access recommended content, use email templates, and host instant meetings from the Web app, Email, CRM, or Mobile Apps — activity and engagement data is always auto-logged back to CRM.
Web Conferencing and Instant Online Meetings
Sales Templates and Email Tracking
Flexible communication options – In person, online, and mobile
All Engagement and Activity Data auto-logged to your CRM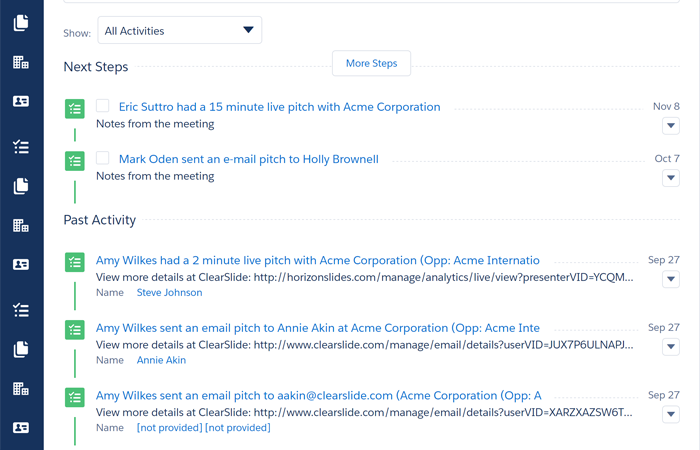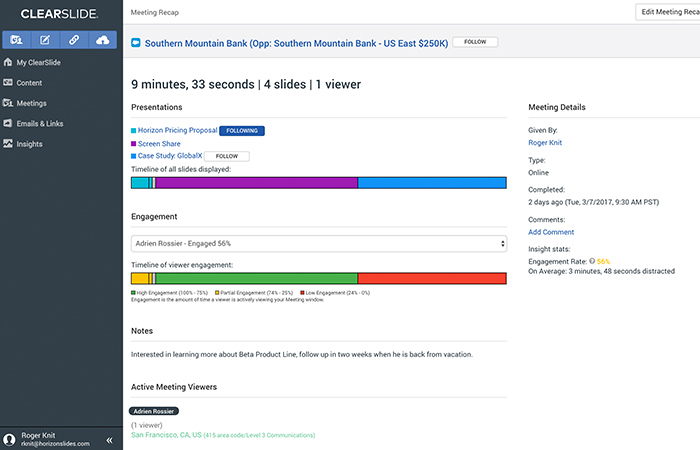 Customer Engagement Insights
Knowing what your prospects and customers are interested in is the key to understanding content effectiveness, who and when to follow up, and what content to follow up with. Activity Insight Cards monitor real-time engagement from content, emails, and online and in-person meetings, enabling tailored follow-up. Reps are guided to next steps based buyer response to campaigns and content shared, focusing reps on the most promising opportunities. Detailed analytics show best practices results across reps– so anyone can replicate success.
Customer Insight dashboards align sales, customer success, and support teams with a complete view of customer interactions. Activity and engagement across all teams is auto-logged to CRM. Share detailed engagement analytics on every interaction from initial outreach through adoption, to simplify account transition and management. Move faster in initial outreach and leverage engagement notifications to prioritize lead follow-up.
Reps use alerts and analytics to identify buyers' interests, and then leverage sales content hub to identify and tailor content. Engagement analytics focus reps on promising opportunities. Reps are guided to next steps based on buyer engagement, content shared, and campaign response.
Increased Sales Forecast Accuracy
Tailored Guided Selling
Sales Opportunity Prioritization
System of Engagement
Increase Sales Effectiveness by looking beyond Sales Enablement tools to an integrated Sales Engagement platform. Sales Reps need more time with customers. The challenges are they are still struggling with disconnected tools, manually reporting on deals, and searching (or creating) the right content. ClearSlide delivers an amazing selling experience for Reps across sales development, inside sales, field sales, and account management with an integrated platform for content, communications, and analytics.
With the complete ClearSlide platform, companies can move away from investments in older technologies and disconnected enablement tools. ClearSlide becomes the system of engagement to complement CRM systems.