Predictability of sales activity & results
ClearSlide analytics and reporting enable you to gain a true understanding of real pipeline vs reported activities.
Tie actual sales activity to sales results
Establish benchmarks for productivity
Forecast with more accuracy
Coaching to higher productivity
With ClearSlide analytics you can identify the key activities that drive top performance and drive focus on the deals that matter.
Focus your sales team on the right deals
See sales teams' activity with real-time reports
Develop & scale customized selling strategies
Reinforce sales methodologies, process and best practices
Close deals anywhere
With ClearSlide mobile, your sales team can present and share from anywhere, anytime. Pack the power of your organization into their mobile devices.
Sync all content to iPads and mobile phones
Immediate access to key collateral and presentations
Analytics that capture all sales rep activities, wherever they are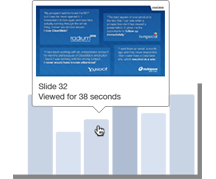 Analytics
Gain key insights into your sales team's performance and productivity. Easily understand how sales activity ties to sales results, and close more business, faster.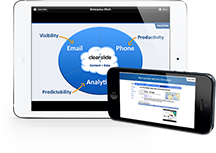 Mobile
Enable your sales team to present to prospects anywhere, anytime — with the power of all the company's sales and marketing content at their fingertips.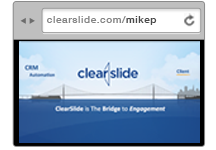 Live Pitch
Increase the productivity of your sales team. Use Live Pitch to instantly connect with your prospects over the phone or in person. No downloads. No hassle.